Jessica Ciaccio Celebrates 20-year Anniversary At Kline & Company
Kline & Company Team News
May 30, 2023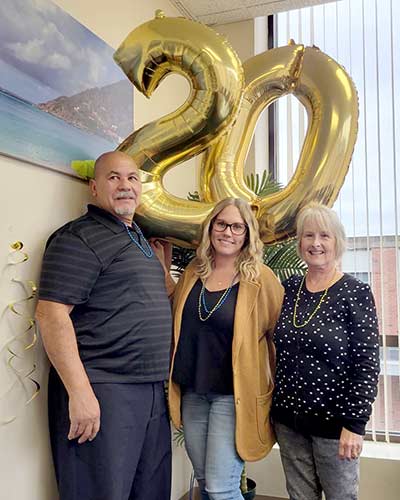 Jessica Ciaccio recently reached a major milestone at Kline & Company, being a key member of our team for 20 years! She joined us in December 2002, initially beginning her career as our receptionist. All through the years, Jessica has consistently performed with an impressive work ethic, showing remarkable commitment and dedication. With a bright enthusiasm and naturally cheerful disposition, she has eagerly persevered to grow in knowledge and proficiency while becoming the most well-known and visible member of our team. In 2020, Jessica was promoted to Office Manager.
Jessica's inspiring achievement was celebrated by a company-wide party with her family in attendance, acknowledging the exceptional hard work and talent she brings to the team. It was one of the most memorable events at Kline & Company, and everyone had a great time while further enhancing their bonds with one another. Jessica's big celebration was a wonderful opportunity for the team to recharge just in time for the upcoming busy tax season!
Jessica has excellent management and social skills.  She makes sure that each client feels valued and welcome. From the initial greeting of clients and scheduling meetings-- to assembling and delivering final tax returns-- she is involved in each client's project from beginning to end. If Jessica is not around, our clients are sure to ask us how she is doing.
Jessica's presence in the office is greatly appreciated, as she is the first to volunteer and offer a helping hand while simultaneously attending to her own responsibilities and managing the entire office.  If there are software issues or equipment that needs maintenance or repairing, Jessica is the go-to resource for solutions. She makes a conscientious effort to fix issues and resolve problems in order to keep the office running smoothly.  Jessica is extremely dependable with the inert ability to cope in challenging situations, always keeping a positive attitude and optimistic outlook.  She is willing to go the extra mile, and her can-do attitude makes a tremendous difference.  Jessica is a highly valued, appreciated, and outstanding asset to our firm.
 
Jessica, here is our heartfelt thank you for bringing your very best to Kline & Company every day for past 20 years!